Jet-Plasma-Skin-Lift
Jet-Plasma-Skin-Lift is for tightening, for wrinkles, skin laxity, aging skin, damaged skin, inflammation, scars, acne, hyper-pigmentation, melasma, poor lymph flow, and collagen remodeling.  LymphWorks' therapist CJ loved her results so much she bought the device, got certified and insured to share this with others.  It is so effective with no pain or down time, unlike it's predecessor device the Plasma fibroblasting pen.  LymphWorks' esthetician, Ashley Hunter, also specializes in Jet-Plasma-Skin-Lift, having overcome her own battles with skin health in the past. Ashley absolutely loves the the Jet Plasma pen for the large range of amazing skin health, skin lifting, and appearance benefits! .
What is Jet-Plasma-Skin-Lift?
Jet Plasma is the most advanced Plasma technology used to brighten and tighten skin, shrink pores and promote high levels of collagen regeneration.  The Jet Plasma device was designed with Jet (J Plasma) and Cold Plasma for best results using a strong low atmospheric plasma temperature on the surface of the skin. It is a pain-free procedure. 
Jet Plasma works by remodeling and repairing skin from the inside out.

Although you may see immediate improvement with one treatment, the skin will continue to improve over the next 6-8 weeks as collagen regenerates.

It has a sterilization effect so is great for acne and other skin conditions.

Jet Plasma Skin Lift can be used almost anywhere on the face and body. (face, neck, belly, knees, chest, hands, etc)

A series of 4 to 8 sessions is recommended for best results. Begin with twice a week.
Before and after on crows feet with only 3 Jet Plasma Skin Lift Sessions.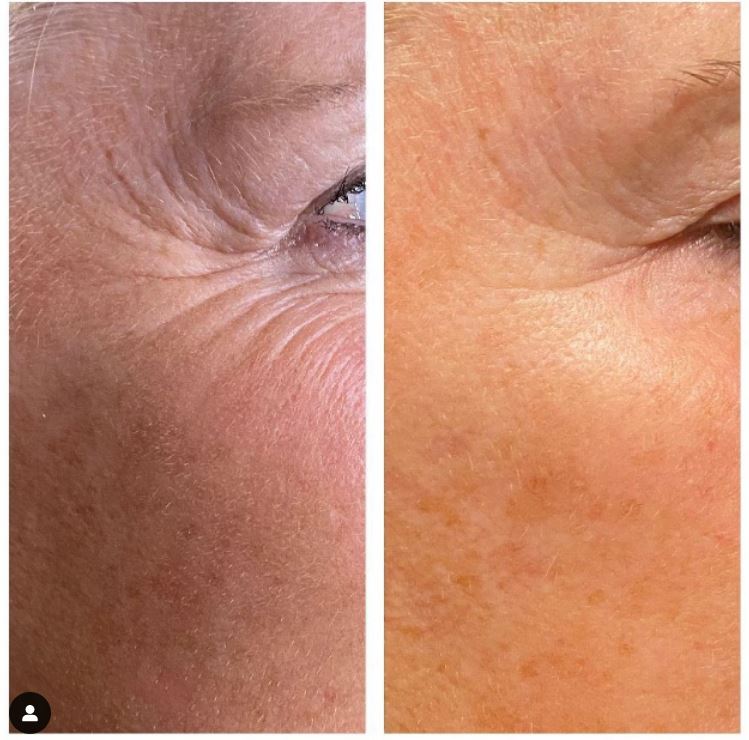 Before and After on belly with 3 Jet Plasma Skin Lift Sessions from @waxroomrichmond.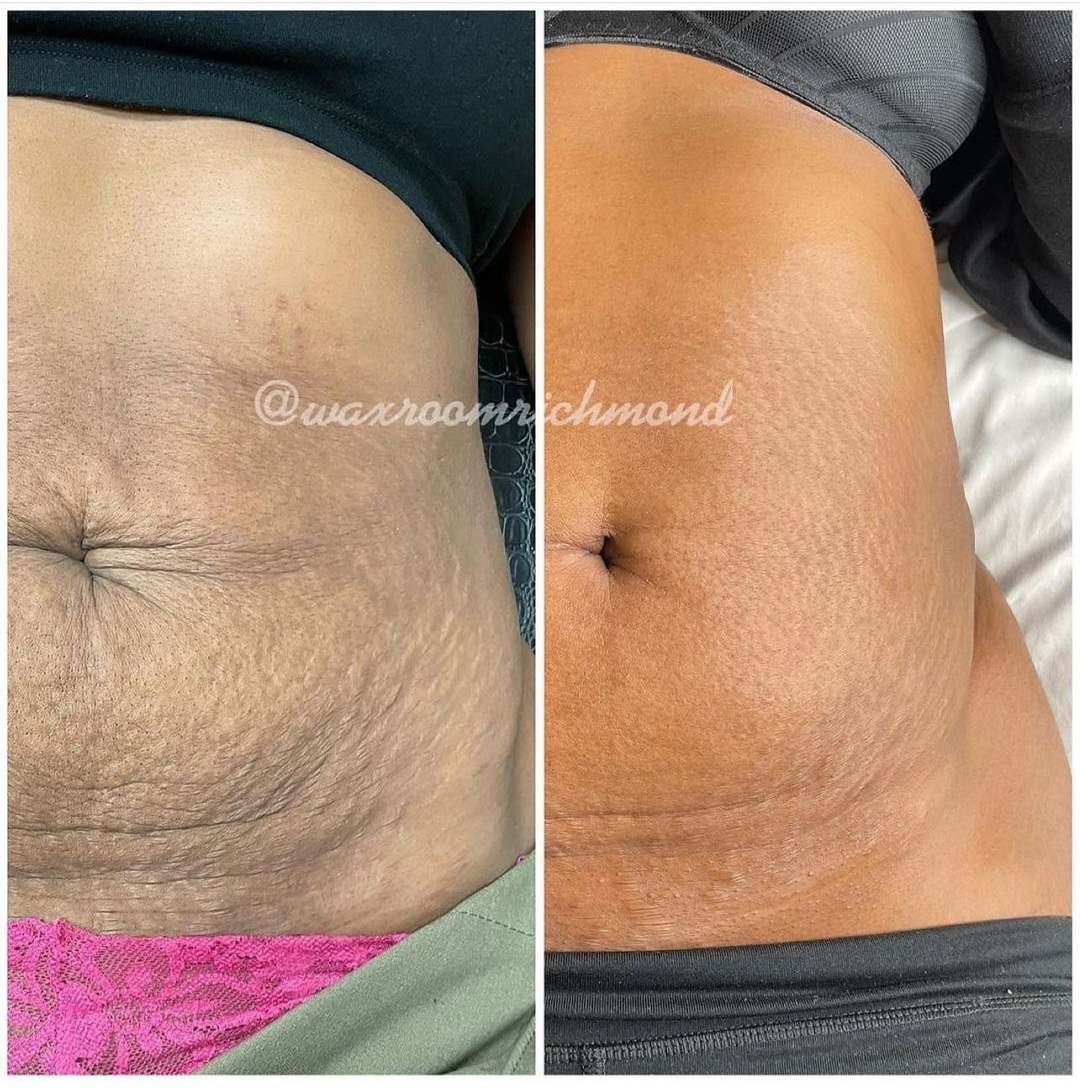 Before and after on neck with 8 Jet Plasma Skin Lift Sessions from @fibroblast.beauty
---

Frequently Asked Questions About Jet Plasma Skin Tightening


Does Jet-Plasma-Skin-Lift Hurt?
No. This is a completely pain free treatment. The treatment may feel slightly warm in some places.
​
Are there any side effects after the Treatment?
There are no significant side effects following treatment. You may have some slight redness and your skin may feel somewhat tight.
​
What is the Aftercare Following a Jet Plasma Treatment?
Following your treatment, the channels in the skin are open so it is important that nothing is applied to the skin for 12 hours.. ​No makeup can be worn after the treatment for 12 hours. No Exercise, Sauna, Steam for 12 hours. Sterilize your cell phone, don't touch your skin, and sleep on a clean pillow case to avoid allowing bacteria to contaminate your freshy treated areas!
​
Can I receive Jet Plasma Skin Lift after filler or botox?
Yes, you can receive this one week after fillers and 2 weeks after botox.
What else do I need to know and Jet Plasma Tightening?
It is safe to treat melasma
​
It is safe for all Fitzpatrick skin types
​
​
Treats eczema, psoriasis & rosacea
​
No numbing, pain free, no dots
​
Can be done every 48 hours
​
No fillers, no injections, no bandages
​
Total treatment time is only 5-10 mins depending on the treatment area.
​
Those with piercings/jewelry/metal in the area of treatment will have to remove their jewelry for the duration of treatment only.

---

How long do the Results Last?

Results from Jet Plasma Skin Lift can last 2 to 5 years. Like all esthetic procedures, results and the longevity of results are based on age, genetics, lifestyle factors, sun exposure all which are within the control of the client.  
Additional services such as Red Light Therapy can enhance the results and may be offered by your Jet Plasma Skin Lift practitioner.
After your first series, you must take 8 weeks off of actively applying Jet Plasma to allow the skin to complete the collagen generation and healing before doing another series or considering a maintenance schedule.
Jet Plasma Skin Lift / Tightening in Action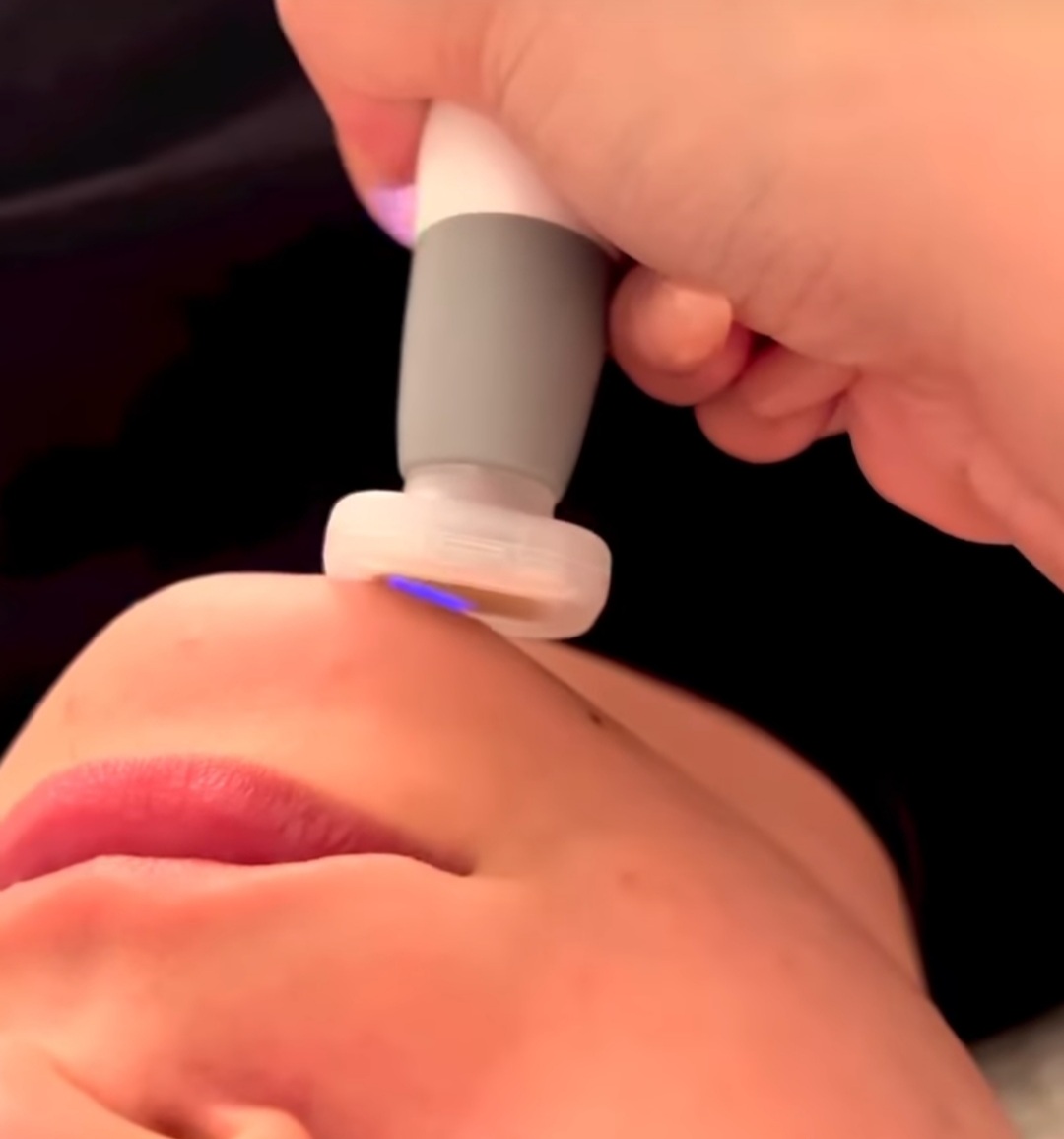 ---

Who cannot use Jet Plasma?
Jet-Plasma-Skin-Lift is not recommended
for those with: 
A Pacemaker
Pregnancy
On/over any cancerous lesions or suspected cancer
Implanted neurostimulator or electrical implanted device, or implanted slow medication release
Those with metal jewelry that cannot be removed in the area.
---

What is the Investment?
Keep in mind all the $$$ you have spent on skin care products, home use devices, specialty lasers and facial services, this is highly cost effective as a non-surgical face or skin lift.
Jet-Plasma-Skin-Lift cost
1 region (face) $120 per session
4 pack for 1 region $440
8 pack for 1 region $840
​
2 regions (face and neck) $240 / session
4 pack (2 regions) $880
8 pack (2 regions) $1680
1 region (face) $120 per session
4 pack for 1 region $440
8 pack for 1 region $840
​
2 regions (face and neck) $240 / session
4 pack (2 regions) $880
8 pack (2 regions) $1680
---

Want More Information on Jet Plasma Skin Tightening?
Ready to schedule?  Please do so on-line here with us.
Want to see more before and after pictures from practitioners all over the world?  Visit this Instagram Account.
Want to purchase a device and/ or get trained?  Please contact Aubrey at Pro Plasma Esthetic.
---
Like This Page?