BioRePeelCl3®
Aesthetic Grade Chemical_Peel
BioRePeelCl3® chemical_peel is the next generation of skin treatments without ANY downtime!  It is a peel without the peel. Not just considered an aesthetic grade chemical_peel, but a complete aesthetic procedure with no downtime and minimal shedding of the skin.  By restoring the optimal physiological conditions of the skin, it helps even out the appearance of skin texture to increase radiance and you won't have to put your social plans on hold while your skin heals for this amazing skin resurfacing.
The product is intended to help the body shed dead skin cells, exfoliate the skin's surface, and reveal a more youthful-looking appearance for both the face and body.
It is a non-injectable bio revitalizer that induces a dermal bio-stimulation without harming the skin. It does not cause frost or peeling, it acts deep within the tissues. 
BioRePeelCl3® chemical_peel is one of the most popular and INNOVATIVE treatments in Europe (known as reverse peels) and is formulated in Italy and sold in over 80 countries. 
Under the watchful care of LymphWorks' Holistic esthetician, Ashley Hunter, you may experience BioRePeelCl3® as stand-alone skin service provided at our LymphWorks office in Fort Collins, Colorado or you may also add this to other skin services to profoundly enhance and accelerate the effects/benefits and immediate and long-term results (such as Jet Plasma, microneedling, CO2 Carboxy Lift Mask, and facials).
What does BioRePeelCl3® Chemical_Peel do?
BioRePeelCl3® is amazing because it is formulated to go straight into the dermis, bypassing the epidermis of the skin.  It's work is done from the inside out.  It stimulates the reconstruction of collagen and elastin deep within the skin layer, improving the skins surface, imperfections, and also accelerating cell turnover.  Results can be seen instantaneously and continue to improve over the following weeks.  We like to call the results "glass skin" or popularly know as skin resurfacing.   It can be used to improve:
Hyperpigmentation
Aging Lines & Wrinkles
Large pores
Lax and sagging skin
Sun damaged skin (face, neck, decollete, chest, hands, elbows, knees, etc)
Scars
Melasma/Rosacea
Acne/ Blemishes
Stretch marks
Prevention of dermal aging
General Skin Rejuvenation
Great add-on to enhance other treatments
Before and After BioRePeelCl3® Chemical_peel on the face and body - Photos compliments of BioSkin Aesthetics, Inc.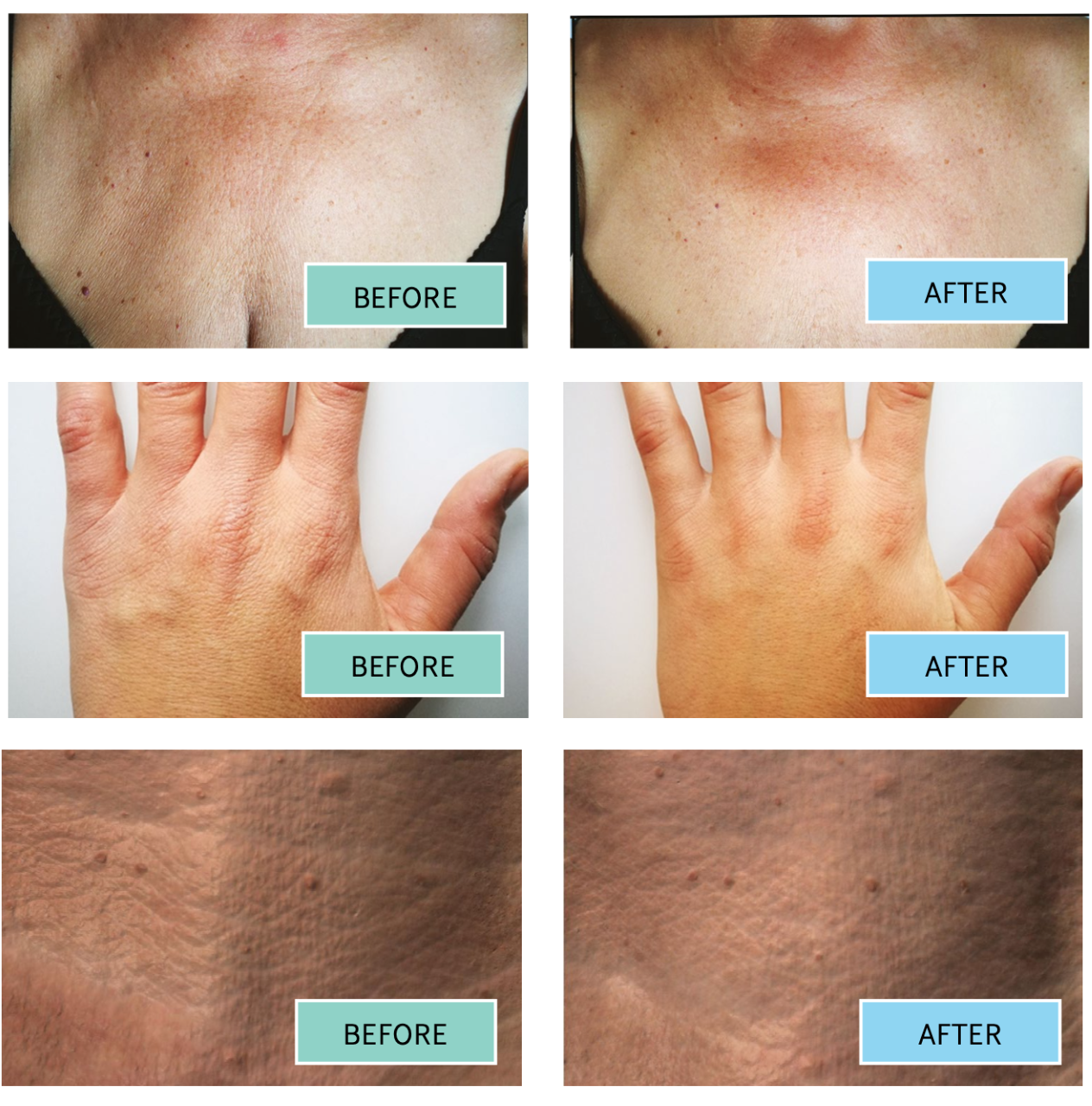 ---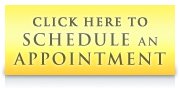 Scheduling an appointment requires that you provide personal information
to our scheduling service provider.

Frequently Asked Questions About  BioRePeel


Does the BioRePeel Chemical_Peel Hurt, Burn, or cause Redness?
The treatment itself has little to no discomfort, with a little tingle/spice for sensitive skin types. Right after the treatment, your skin may be a slightly pink for up to 15 minutes, then there is a visible post-treatment glow. There is NO Downtime and no needles! Seriously. Sunscreen and makeup can be applied in about one hour after the treatment.
​
Do I have to do more than one Treatment to see Results?
Although you will notice glass-like skin and other benefits after just one 15 minute session.  A series of 4 to 6 BioRePeel treatments are encouraged.  Once a week for regular skin and once every other week if you are sensitive.  At the end of the series, you should see significant tightening with a long-lasting results (6-8+ months).  
Like all esthetic procedures, results and the longevity of results are based on age, genetics, health conditions, lifestyle factors, sun exposure ...most of which are within the control of the client.  
Are there any side effects after the Treatment?
The most common after effect an instant glow, tightness of pores, and more plump skin!  More results will continue to occur over the following days.  Some clients will have a little detoxification of the skin as cell turn over and dead skin cells accumulate on the surface of the skin over the coming days.  Great aftercare at home including moisturizing, sunblock, and gentle cleansing are critical to reep the best results from your chemical_peel.  Your esthetician will help you determine what will work best for your skin.  If you purchase a 4 package of this procedure, we include an extremely hydrating professional grade moisturizer to take home and use between sessions.
The formulation of this peel which is on the body such as hands, elbows and knees (versus the face, neck and decolletage) is more potent and may cause some gentle flaking or peel, but the formulation used on the face, neck and decolletage is more gentle and unlikey to cause flaking.
​What is the Pre-Peel Instructions prior to Treatment?
5 to 7 Days Prior to having our peel done you must avoid laser hair removal, waxing, chemical hair removal creams, electrolysis, topical retinoids (vitamin A), Tretinoin, other topical acids, and any exfoliants or exfoliating procedures.
What is the Aftercare Following a BioRePeel Treatment?
Until your skin is fully healed/ regenerated, please avoid ALL AHA's, BHA'S and RETINOL (Vitamin A serums) for 7 days.  Avoid laser hair removal, waxing, sunbeds, swimming and sauna's for 7 days.  Avoid doing any other Peel, MicroNeedling or any other abrasive skin treatment / modality for a minimum of 7 days.  Sensitive skin individuals should avoid for 2 weeks.  We also suggest that you sterilize your cell phone, don't touch your skin, and sleep on a clean pillow case to avoid allowing bacteria to contaminate your freshy treated areas.  Intense and regular moisturizing is absolutely critical after your peel and your esthetician will suggest the right products and useage to acheive optimal results.
​
---

Who cannot use BioRePeel Chemical_Peel?


This Aesthetic Peel is completely safe for use on ALL skin types, tones, and ages.  It is even safe for most types of autoimmune disorders.  It is NOT photosensitive and can be used year round (but we recommend the use of SPF daily).
 ***Those with an aspirin allergy or histamine reaction to salicylic acid should avoid this peel.
---

What is the Investment?
Keep in mind all the $$$ you have spent on skin care products, home use devices, specialty lasers and facial services, this is highly cost effective as a non-surgical Skin Rejuvenation / Regeneration Therapy with no down time!
 2023 BioRePeelCl3® Chemical_Peel Pricing (subject to change)
1 region (example: face) $90 per session
1 region (example face) is $85 for an ADD-ON to another service such as Jet Plasma or MicroNeedling.
Package of 4 peels for one area:  $360 and includes a professional grade take home product for aftercare such as Vital Therapy's Hydrating Rain (must be used in within 4 months)
​
2 regions (example: face and neck, elbows and knees) is $165.
2 regions (example: knees and elbows) is $160 for an ADD-ON to another service such as Jet Plasma or MicroNeedling.
Package of 4 peels for twos areas:  $660 and includes a professional grade take home product for aftercare such as Vital Therapy's Hydrating Rain (must be used in within 4 months)
We have more packages available and it is best to view them here.
---
Want Exponentially Faster Results?  Combining Jet Plasma with the BioRePeel.
Jet Plasma Treatment can be combined with BioRePeel.  This can  enhance results and speed up the Skin Rejuvenation process.  The Jet will be performed prior to the peel and the peel may not need to be on the skin for the full duration.  Some clients have expressed that the Peel may feel a bit more spicey after Jet (and also if combined with microneedling).
These two services combined may be done once a week for regular skin or once every two weeks for sensitive skin.  The recommended 4 to 6 BioRePeel sessions may be less when combine with Jet Plasma.


Want More Information on BioRePeelCl3® Aesthetic Grade Peel?
Not sure if this is right for you? Please schedule a free skin consult with esthetician Ashley here.
Ready to schedule?  Please do so on-line here with us.
Want to know more about the product, science, and ingredients?  Visit BioSkin Aesthetics, Inc on the web or Instagram.
---
Like This Page?